DB25 IDC Connectors
DB25 IDC Connectors
Insulation Displacement (IDC) DB25 connectors
Designed for 0.05" pitch ribbon cable
Scroll to Buy
See Also:
DB25 Breakout Board
,
DB25 Breadboard Adapters
,
Ribbon Cable
---
General Description
These connectors mate with any other standard DB-25 connectors. The DB25 connector is commonly found on computers, electronic devices, DAQ equipment, and industrial controls. On PC's, DB-25 connectors are typically used for RS-232 ports or parallel printer ports.
The insulation displacement (IDC) contacts on these connectors allow them to be quickly and easily crimped onto 25-wire flat ribbon cable.
A strain relief clip is included with each connector.
Product Documents
Connector Hardware Options
These connectors are available only with Unthreaded Mounting Holes (Hardware option
-H-
).
Captive Screws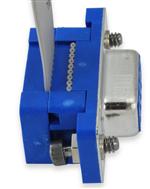 Captive screws compatible with these IDC DSUB connectors may be purchased from Winford Engineering. These are very useful for fastening the DSUB connectors to mating equipment. They may be used with DSUB connectors which have either the Unthreaded Holes or the Threaded Inserts hardware options; however, they work particularly well with the Threaded Inserts, which conveniently retain the screw until the time of installation.
NOTE: The captive screws should be installed in the connector BEFORE the strain relief is installed. After the strain relief is installed, installation of the screw becomes much more difficult.
Click here for the captive screw ordering page.
NOTE: CNI25F-SF-H-BLU is temporarily out of stock. More expected early to mid April
Pricing and Ordering
Product #
Description
1+
10+
100+
RoHS
Buy Now
CNI25M-SF-H-BLU
(Old#: CNI25M)
DB25 Male IDC Crimp Connector, Unthreaded Holes, Blue
$2.25
$2.20
$2.05
Yes
CNI25M-SF-H-BLU
(Old#: CNI25M)
DB25 Male IDC Crimp Connector, Unthreaded Holes, Blue
RoHS
: Yes
Buy Now:
| Quantity | Price |
| --- | --- |
| 1+ | $2.25 |
| 10+ | $2.20 |
| 100+ | $2.05 |
All of the above items are normally stocked. Please call us if you need to verify availability for a specific quantity, or for pricing at higher quantities. Please visit our ordering page for our ordering policies and a list of ordering methods.