DB15HD Splitter (Y) Cables
DB15 High Density 3-row connectors:

Y connection cable
One Male connector; two Female connectors
See Also:
DB15HD Breakout Board
,
DB15HD Slim Breakout Board
,
DB15HD Extension Cables
,
Other Cables
---
General Description
These 'Y' cables contain a DB15-HD (high density) male connector on one end and two (2) DB15-HD female connectors on the other end. Use these cables to connect two devices to a single DB15HD port (thus forming a 'Y' or 'T' connection). All 15 pins are wired to all connectors, and the pin wiring is 1:1 (ie pin 1 to pin 1; pin 2 to pin 2, etc). A foil shield surrounds the cable conductors and connects the metal DSUB shells. The wire gauge is 28AWG. These cables are gray in color.
Note that the DB15HD connector has 3 rows of pins. Technically, the correct term for a DB15HD connector is DE15, but that term is not commonly used.
The cable ends are shown below: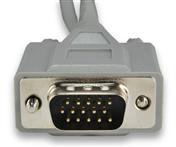 Applications
These Y cables are ideal for connecting multiple devices to a single connector. This is especially convenient when equipment implements multiple I/O functions on a single interface port, in which case more than one device may need simultaneous access to the port connector.
Possible applications:

Elecraft K3 Radio Accessory 'ACC' Port Splitter
Any interface port containing multiple I/O lines
CDY15HDMFF-1 is temporarily out of stock. Estimated availability in early September 2019.
---
All of the above items are normally stocked. Please call us if you need to verify availability for a specific quantity, or for pricing at higher quantities. Please visit our ordering page for our ordering policies and a list of ordering methods.