2-Channel 16A SPDT Relay Board: RLY402
Provides quick and easy relay wiring
Two SPDT relays and drivers
Accepts TTL logic level control inputs
Available in 5V, 12V, and 24V coil voltages
Screw terminal connections
Convenient for CNC projects
LED indicator for each relay
Relay contacts rated for 16A at 125VAC
Optimally suited for 1/2 HP to 3/4 HP AC motors
Available in rubber feet or DIN rail mount
See Also:
All Relay Boards
---
General Description
This relay board provides a convenient way to add relay outputs to your project, allowing you to switch high-current loads such as AC appliances, motors (up to 1 HP), and more. This board includes two SPDT relays, logic-level relay driver circuits, and protection diodes. Simply provide the board with power, connect your logic-level signals to the inputs, and the relay contacts are ready to use. The relay contacts are electrically isolated from the rest of the board, which allows the board to be used in a wide variety of applications, including both AC and DC loads.
With this relay board, a logic-level signal (e.g., 3.3V or 5V) or higher-voltage signal (up to 25V) can be used to control a relay. Examples of logic-level signals include the outputs of a PC's parallel port or a microcontroller's output pins (e.g., Arduino or Raspberry Pi).
The board is available with three different relay coil voltages (5, 12, 24 VDC), allowing you to choose whichever is most conveniently available for your project. Suitable wall power supplies for the 5V and 12V models are available below.
Please note that the relay coil voltage you select has no effect whatsoever on the voltages you can switch with the relay contacts. Also note that the relay coil voltage you select does NOT affect what voltage is needed for the input control signals. For any of the coil voltage options (5, 12, or 24V), an input control signal from 2.5VDC up through 25VDC will activate the relay. See datasheet for input current requirements.
Mounting Options
These products are available in two different mounting variants. Product numbers ending with
-DIN
come with DIN clips already installed and ready to snap onto 35mm or 32mm DIN rail. Product numbers ending with
-FT
have stick-on rubber feet installed on the bottom side, allowing for benchtop use or panel mounting. For panel mounting, we suggest 1/4"
nylon standoffs
under the mounting holes, and #6 screws.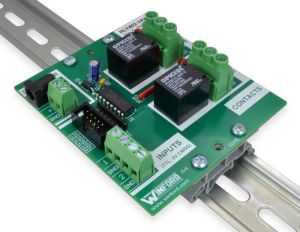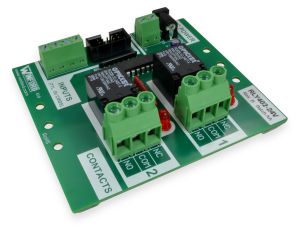 Product Documents
Product Details
Two SPDT relays and drivers
Accepts TTL logic level control inputs
Available in 5V, 12V, and 24V coil voltages
LED indicator for each relay
Relay contacts rated for 16A at 125VAC
Optimally suited for 1/2 HP to 3/4 HP AC motors
Rated for motors up to 1 HP max at 125VAC or 250VAC
Screw terminals for control inputs (accepts 12-28 AWG wire)
Screw terminals for contacts (accepts 10-24 AWG wire)
0.1" header provided for input control signals (in additional to screw terminals)
Power supply may be connected via DC power jack or via screw terminals.
Approximate dimensions: 3.4" x 3.8"
Available in rubber feet or DIN rail mount
Product #
Description
1+
10+
RoHS
Buy Now

12V Power:

RLY402-12V-DIN
Relay Board, TTL, 16A SPDT, 2 relays, 12V DC, DIN Rail Mount.
$40.00
$37.00

Yes

RLY402-12V-FT
Relay Board, TTL, 16A SPDT, 2 relays, 12V DC, Feet
$38.50
$35.50

Yes

WSD120-04-0
Wall Power Supply, Switching, 12V DC, 0.4A, 5.5 x 2.1mm Barrel, Center Positive, 90-264V AC Input
$6.95
$6.50

Yes

24V Power:

RLY402-24V-DIN
Relay Board, TTL, 16A SPDT, 2 relays, 24V DC, DIN Rail Mount.
$40.00
$37.00

Yes

RLY402-24V-FT
Relay Board, TTL, 16A SPDT, 2 relays, 24V DC, Feet
$38.50
$35.50

Yes
All of the above items are normally stocked. Please call us if you need to verify availability for a specific quantity, or for pricing at higher quantities. Please visit our ordering page for our ordering policies and a list of ordering methods.