Analog Comparator Board: 2 Channels
Two non-inverting analog comparator channels with open-drain outputs
Easily set independent rising and falling threshold voltages
Thresholds may be set with onboard potentiometers (2 per channel), or may be provided externally
LEDs provide visual indication for each state and power
Wide operating voltage range (3.3V to 24V)
Buffered output stage for higher current sink capability
Mounting Options: Rubber Feet, Panel, or DIN Rail
---
General Description
An analog comparator constantly compares the voltage of an input signal to a reference voltage and provides a digital "high" or "low" output to indicate whether the input voltage is above or below the threshold. The CMPA102 comparator board provides two channels of comparator functions with a non-inverting open-drain protected output for each channel. Hysteresis is easily controlled with separate high and low threshold voltages. Each threshold may be set using the onboard potentiometers, or thresholds may be provided externally by the user. Input signal range includes the input-side supply rail and ground, without the need to use voltage dividers. The CMPA102 is suitable for use with supply voltages of anywhere from 3.3V to 24V. This robust design includes protected low-side output drivers that provide significant sink current capability. Reverse-polarity protection on inputs and outputs is also included.
This board includes terminal blocks to provide convenient access to the signals.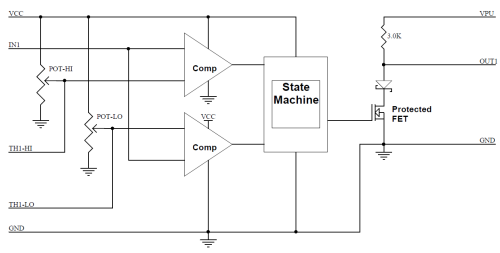 Applications
Monitoring sensor signals (fluid level, temperature, pressure, etc)
Low-side driver for small DC loads (motors, solenoids, bulbs, etc)
Simple closed-loop hysteretic control
Interface between equipment with different logic levels
Driving a load that could be subjected to fault conditions (e.g., overcurrent, short to supply)

A comparator is sometimes referred to as a "threshold detector" or "hysteretic controller."
Product Documents
Mounting Options
These products are available in two different mounting variants. Product numbers ending with
-DIN
come with DIN clips already installed and ready to snap onto 35mm or 32mm DIN rail. Product numbers ending with
-FT
have stick-on rubber feet installed on the bottom side, allowing for benchtop use or panel mounting. For panel mounting, we suggest 1/4"
nylon standoffs
under the mounting holes, and #6 screws.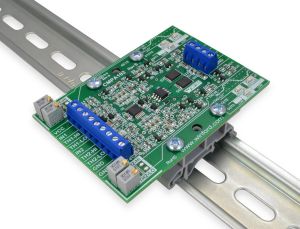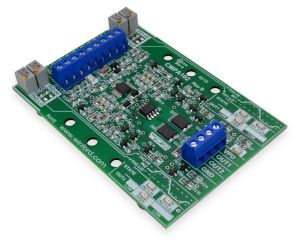 Product Details
Two non-inverting analog comparator channels with open-drain outputs
Easily set independent rising and falling threshold voltages
Thresholds may be set with onboard potentiometers (2 per channel), or may be provided externally
Hysteresis is independent of output-side supply voltage and loading
Deterministic start-up state
LEDs provide visual indication for each state and power
Rail-to-Rail input signal voltage range includes ground and input supply rail
If desired, easily use separate supplies for input supply and output supply
Wide operating voltage range (3.3V to 24V)
Buffered output stage for higher current sink capability
Output stage includes current limit and thermal limit features
Includes reverse-polarity protection on inputs and outputs
Redundant ground connections at terminal block
Approximate dimensions: 3.3" x 2.3"
Mounting Options: Rubber Feet, Panel, or DIN Rail
| Product # | Description | 1+ | 10+ | RoHS | Buy Now |
| --- | --- | --- | --- | --- | --- |
| CMPA102-DIN | Comparator Board, Protected Outputs, 2 Channels, DIN | $59.50 | $56.00 | Yes | |
| CMPA102-FT | Comparator Board, Protected Outputs, 2 Channels, Feet | $58.00 | $54.50 | Yes | |
---
Comparator Board, Protected Outputs, 2 Channels, DIN
| Quantity | Price |
| --- | --- |
| 1+ | $59.50 |
| 10+ | $56.00 |
Comparator Board, Protected Outputs, 2 Channels, Feet
| Quantity | Price |
| --- | --- |
| 1+ | $58.00 |
| 10+ | $54.50 |
All of the above items are normally stocked. Please call us if you need to verify availability for a specific quantity, or for pricing at higher quantities. Please visit our ordering page for our ordering policies and a list of ordering methods.