6P6P Slim Panel-Mount Breakout Boards
6P6C Jack (accepts RJ11, RJ12, RJ13, and RJ14)
Screw terminal for each of the 6 lines, plus shield
Designed to be panel mounted
Small footprint

See Also:
RJ12 (6P6C) Cables
,
More RJ12 (6P6C) Products
---
General Description
Make connections quickly and reliably with this breakout board, which brings every pin of its 6P6C modular jack connector out to screw terminals.

These breakout boards are designed to be mounted in a panel, thus providing a convenient method of passing an RJ12 / 6P6C connection through a panel. The compact design of this board takes up minimal area on the panel surface, thus potentially allowing many connectors to be mounted in a relatively small area. Although the breakout board footprint is small, provision has been included for wire strain reliefs; holes in the board provide anchor points where tie-wraps can be attached, thus securing the wires at the edge of the board.
All RJ12 / 6P6C signal pins plus the connector shield are brought out to screw terminals.
This breakout board is perfect for production applications as well as experimentation and prototype work. It is well-suited for working with serial ports, sensors, data acquisition (DAQ) equipment, telephone lines, RS-232 devices, and other devices that use a RJ11 / RJ12 / RJ13 / RJ14 / 6P6C connector.
The 6P6C designation on the modular jack stands for 6-Position, 6-Conductor, meaning it will accept telephone connectors commonly referred to as RJ11, RJ12, RJ13, and RJ14.
Need something different? We stock a variety of RJ12/6P6C breakout board styles and form factors. Please have a look!
A breakout board is sometimes referred to as a "transition module", "terminal board", "terminal block", "breakout box", "breakout adapter", "terminator", or "interface module".
Product Documents
| Part # | Description | PDF Drawing | DWG Drawing | IGES Model | STEP Model |
| --- | --- | --- | --- | --- | --- |
| BRKSM6P6CSJ-R-P | RJ11 / RJ12 / RJ13 / RJ14 / 6P6C, Slim Profile, R/A Connector, Panel Mount | | | | |
Panel Mounting
This product is designed to mount behind a panel face and extend through the panel. One end of the product features sturdy metal angle brackets with threaded holes (#4-40) to provide panel mounting capability. Two additional #4-40 screws (not included) are used to attach the breakout board assembly to the panel. The connector extends approximately 2.3 millimeters past the face of the mounting brackets, and thus the connector extends through the panel. A cutout must be made in the panel to accommodate the connector, and two holes are needed for the mounting screws. For more information on appropriate panel cutout size and locations, please see the product drawing document.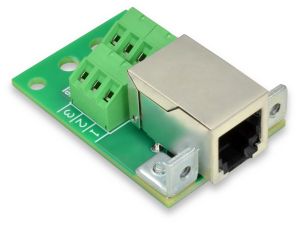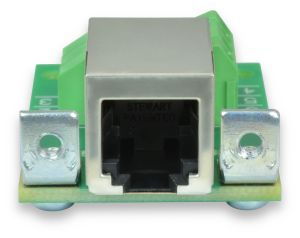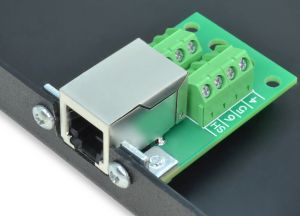 Product Details
6P6C Jack (accepts RJ11, RJ12, RJ13, and RJ14)
Screw terminal for each of the 6 lines, plus shield
Screw terminals accommodate wire sizes from 16AWG to 26AWG
Designed to be panel mounted
Approximate dimensions: 1.8" x 1.11"
Small footprint
| | |
| --- | --- |
| | Need a quality screwdriver for your breakout boards? Winford sells Wiha screwdrivers! |
| Product # | Description | 1+ | 10+ | 50+ | RoHS | Buy Now |
| --- | --- | --- | --- | --- | --- | --- |
| BRKSM6P6CSJ-R-P | RJ11/RJ12 6P6C Shielded Jack Breakout Board, Slim Profile, R/A Connector, Panel Mount | $15.00 | $14.20 | $13.65 | Yes | |
---
RJ11/RJ12 6P6C Shielded Jack Breakout Board, Slim Profile, R/A Connector, Panel Mount
| Quantity | Price |
| --- | --- |
| 1+ | $15.00 |
| 10+ | $14.20 |
| 50+ | $13.65 |
All of the above items are normally stocked. Please call us if you need to verify availability for a specific quantity, or for pricing at higher quantities. Please visit our ordering page for our ordering policies and a list of ordering methods.
Accessories