RJ50 10P10C Breakout/Buss Board
Contains Qty 4 RJ50/10P10C Jacks wired in parallel
Breakout board & buss board / hub in a single package
Useful for "daisy-chaining" connections
Perfect for prototyping serial port circuits
Screw terminal for each of the 10 lines, plus shield
Solder pad connection space for all 10 lines, plus shield
Supports addition of .1" pin headers
Rubber feet or DIN rail mount

See Also:
More RJ50 Products
,
RJ50 Shielded Single Jack Breakout Board
,
More Breakout Boards
,
RJ50/10P10C Cables
---
General Description
Make connections quickly and reliably with this breakout board, which brings every pin of its 10P10C / RJ50 modular jack connectors out to screw terminals.
Each pin, including shield, is also brought to solder pads (3 per pin) at 0.1" spacing, allowing easy addition of pin headers or other components. Please note that the breakout boards are manufactured with a connection between each connector pin and the corresponding terminal block position; no soldering of any type is necessary. The solder pads simply provide an area for making optional connections to additional headers or other components.
In addition, this board functions as a buss board, featuring four 10P10C modular jack connectors wired in parallel and connected to the solder pads and the screw terminals. This allows the user to easily break out a connection to screw terminals while at the same time connecting other cables to the same signals via the extra connector(s). This is very convenient when "daisy-chaining" several devices together or when wiring multiple devices in parallel. Note that all connections are wired 1-to-1 (ie Pin 1 to Pin 1, Pin 2 to Pin 2, etc.).
The connector shield is connected to a copper plane on the PCB (to minimize electrical noise) in addition to being brought out to a screw terminal.
This breakout board is perfect for production applications as well as experimentation and prototype work. It is well-suited for work with serial ports, sensors, data acquisition equipment, RS-232 devices, and other devices that use RJ50/10P10C connectors.
The '10P10C' designation on the modular jack stands for '10-Position, 10-Conductor', which is compatible with RJ50 connectors.
Need something different? We stock a variety of RJ50/10P10C breakout board styles and form factors. Please have a look!
A breakout board is sometimes referred to as a "transition module", "terminal board", "terminal block", "breakout box", "breakout adapter", "terminator", or "interface module".
Product Documents
| Part # | Description | PDF Drawing | DWG Drawing | IGES Model | STEP Model |
| --- | --- | --- | --- | --- | --- |
| BRK10P10CSJ4B-S-DIN | RJ50 Buss Breakout, DIN Mount | | | | |
| BRK10P10CSJ4B-S-FT | RJ50 Buss Breakout, Rubber Feet | | | | |
Connector Style
These breakout boards utilize Straight ("Vertical") connectors. This term refers to the connector itself, denoting that it rises straight out of the circuit board rather than at a right angle. The cable mating to a Straight connector is perpendicular to the PCB, as one can infer from the product photos.
Mounting Options
These products are available in two different mounting variants. Product numbers ending with
-DIN
come with DIN clips already installed and ready to snap onto 35mm or 32mm DIN rail. Product numbers ending with
-FT
have stick-on rubber feet installed on the bottom side, allowing for benchtop use or panel mounting. For panel mounting, we suggest 1/4"
nylon standoffs
under the mounting holes, and #6 screws.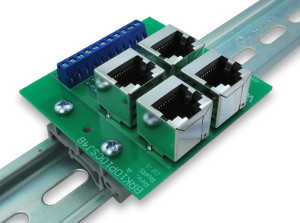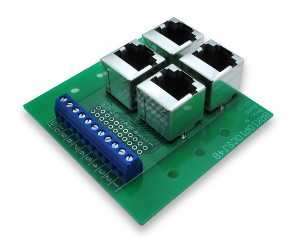 Product Details
Contains Qty 4 RJ50/10P10C Jacks wired in parallel
Screw terminal for each of the 10 lines, plus shield
Solder pad connection holes, three (3) per line
Supports addition of .1" pin headers
Screw terminals accommodate wire sizes from 16AWG to 26AWG
Approximate dimensions: 2.5" x 2.6"
Rubber feet or DIN rail mount
| | |
| --- | --- |
| | Need a quality screwdriver for your breakout boards? Winford sells Wiha screwdrivers! |
| Product # | Description | 1+ | 10+ | RoHS | Buy Now |
| --- | --- | --- | --- | --- | --- |
| BRK10P10CSJ4B-S-DIN | RJ50 Shielded 4-Way Buss Breakout Board, DIN Rail Mount | $41.75 | $36.90 | Yes | |
| BRK10P10CSJ4B-S-FT | RJ50 Shielded 4-Way Buss Breakout Board, Feet | $40.15 | $35.30 | Yes | |
---
RJ50 Shielded 4-Way Buss Breakout Board, DIN Rail Mount
| Quantity | Price |
| --- | --- |
| 1+ | $41.75 |
| 10+ | $36.90 |
RJ50 Shielded 4-Way Buss Breakout Board, Feet
| Quantity | Price |
| --- | --- |
| 1+ | $40.15 |
| 10+ | $35.30 |
All of the above items are normally stocked. Please call us if you need to verify availability for a specific quantity, or for pricing at higher quantities. Please visit our ordering page for our ordering policies and a list of ordering methods.

RJ50 Cables, Shielded, Strain Relief
| Product # | Description | 1+ | 10+ | 25+ | 50+ | RoHS | Buy Now |
| --- | --- | --- | --- | --- | --- | --- | --- |
| CBM10R1TS-1 | RJ50 10P10C Cable, Male-Male, Shielded, Round, Straight Through, Strain Relief, 1Ft | $5.80 | $5.55 | $5.30 | $5.10 | Yes | |
| CBM10R1TS-3 | RJ50 10P10C Cable, Male-Male, Shielded, Round, Straight Through, Strain Relief, 3Ft | $6.25 | $6.00 | $5.75 | $5.55 | Yes | |
| CBM10R2TS-6 | RJ50 10P10C Cable, Male-Male, Shielded, Round, Straight Through, Strain Relief, Anti-Snag, 6Ft | $9.10 | $8.65 | $8.40 | $8.00 | Yes | |
| CBM10R2TS-10 | RJ50 10P10C Cable, Male-Male, Shielded, Round, Straight Through, Strain Relief, Anti-Snag, 10Ft | $10.50 | $10.10 | $9.95 | $9.70 | Yes | |
---